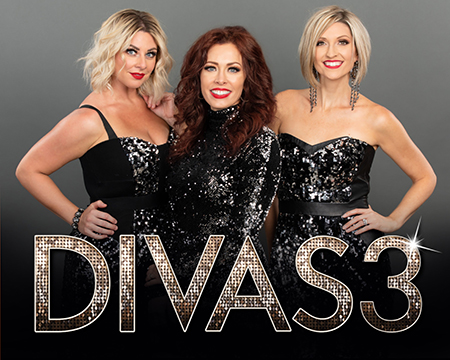 A celebration of the biggest hits by the greatest DIVAS in pop music history!
Three female singers with powerhouse voices sing the biggest hits of the greatest divas in music history in this vibrant show joined by piano and professionally recorded studio tracks for a full sound experience.
Spanning four decades of chart-topping hits, Divas 3 covers the 1960s through the 1990s with music by Aretha Franklin, Carole King, Celine Dion, Whitney Houston, Cher, Dolly Parton, Donna Summer, ABBA, and many more! Individual members of the group are known best for their starring roles in shows on the Las Vegas Strip and from TV's "American Idol" (semi-finalist); as a group, Divas 3 has headlined resorts and casinos throughout their hometown of Las Vegas, performing arts centers across the United States, and luxury cruise ships worldwide.
An enticing mix of pure class, personality, and "goose bump-inducing vocals," Divas 3 successfully finds the balance of honoring the iconic hits of the great pop divas without impersonation.
Three voices … four decades … ALL DIVA: it's Divas 3!
The Greenville Entertainment Series has brought quality live entertainment to Greenville, Texas audiences for more than 75 years. This season's selections feature a wide variety of musical entertainment including musical tributes, country originals, traditional holiday music, and classic rock and roll.
Season tickets are just $75 for adults, family $175 and students $25.Season ticket holders get all 6 concerts for just slightly more than the the price of just 2 concerts at the door. Individual concert tickets are available at the door for $35 for adults and $10 for students